Promoting Biogas and Biomethane Usage in Brazil
Promoting Biogas and Biomethane Usage in Brazil – Know how transfer and setup of an innovation network of companies and universities for the usage of biogas/biomethane in Southern Brazilian rural regions
Duration: 2016 – 2017
Background
According to the World Ressource Institute Brazil is the fourth largest greenhouse gas (GHG) emitter in the world. In Brazil agriculture is the second biggest GHG emitter – only deforestation of the rainforest produces higher amounts of GHG. Therefore, the so-called Low-Carbon Agriculture program was started in 2010 in order to reduce agricultural emissions by 38 percent, but due to the low knowledge of the farms, which are typically operated by families, the program is scarcely used. Thus, the so-called BiogasFert network was built up, which should integrate production and usage of biogas and organic fertilizer into agricultural production systems.
Goal of the project
In order to push the biogas and biomethane usage in Brazil knowledge and key technologies shall be transferred and an innovation network of Austrian and Brazilian companies and universities for the usage of biomethane in Southern Brazilian rural region built up. Cooperation of Austrian and Brazilian universities will help to lay a scientific and theoretical basis and build up local capacities in the field of biogas production and usage. Included companies will establish key technologies and know-how about the practical implementation of biogas projects. Thereby, more intensive entanglement of research, development, teaching and practical implementation shall be achieved.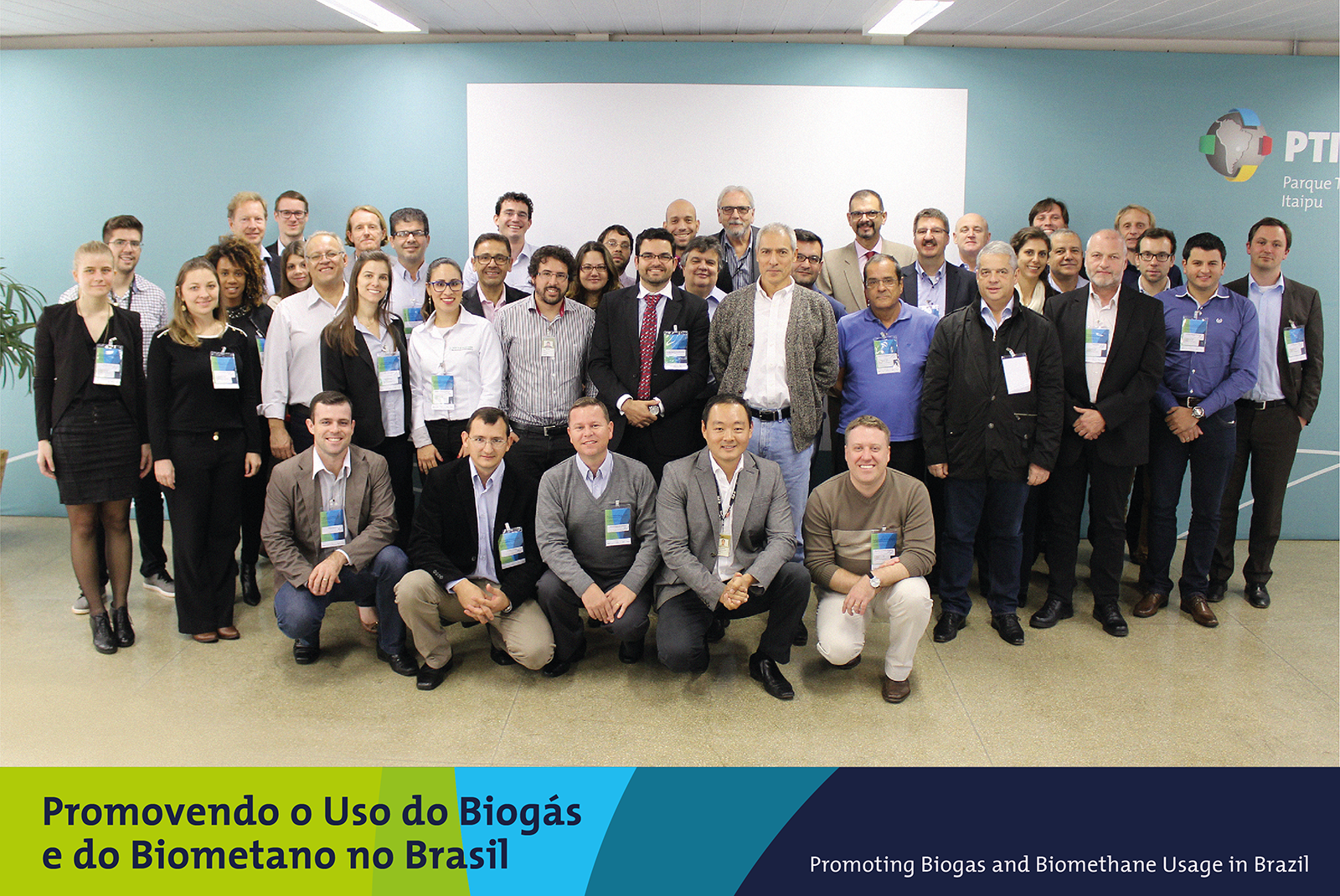 Realization
The project is divided in four sections; universities participate in section 1 and 2:
Network and capacity building
University cooperation between Brazil and Austria
Technology transfer
Buildup of an innovation center
Within section 1 two workshops were already carried out in Brazil. Goal of the first workshop was an intensive exchange of know-how in order to raise the knowledge to the same level. TU Wien presented advantages, technical basics and successful case examples in the field of biogas upgrading. Goal of the following workshops is the intensification of this knowledge transfer from Austrian universities to Brazilian universities and companies.
Another important point of section 1 is the existing e-learning course about biogas/biomethane offered by CIBiogás. Actualization and extension of this course is carried out by TU Wien and BOKU during the project.
Within section 2 new courses in the field of biogas production and usage at UNIOESTE shall be established with assistance of TU Wien and BOKU. Additionally, a training of local university employees in this field and a training of Brazilian PhD students in scientific lab work shall be carried out.
Partners & Funding
Green Tech Cluster Styria GmbH (Eco World Styria)
SpiritDesign – Innovation and Brand GmbH
Project Development Agency – PDA Martin
Technische Unversität Wien
Universität für Bodenkultur Wien
Adolf Tobias GmbH
CIBiogás NPO
UNIOESTE
Funded by Austrian Development Agency (ADA)
Go to top